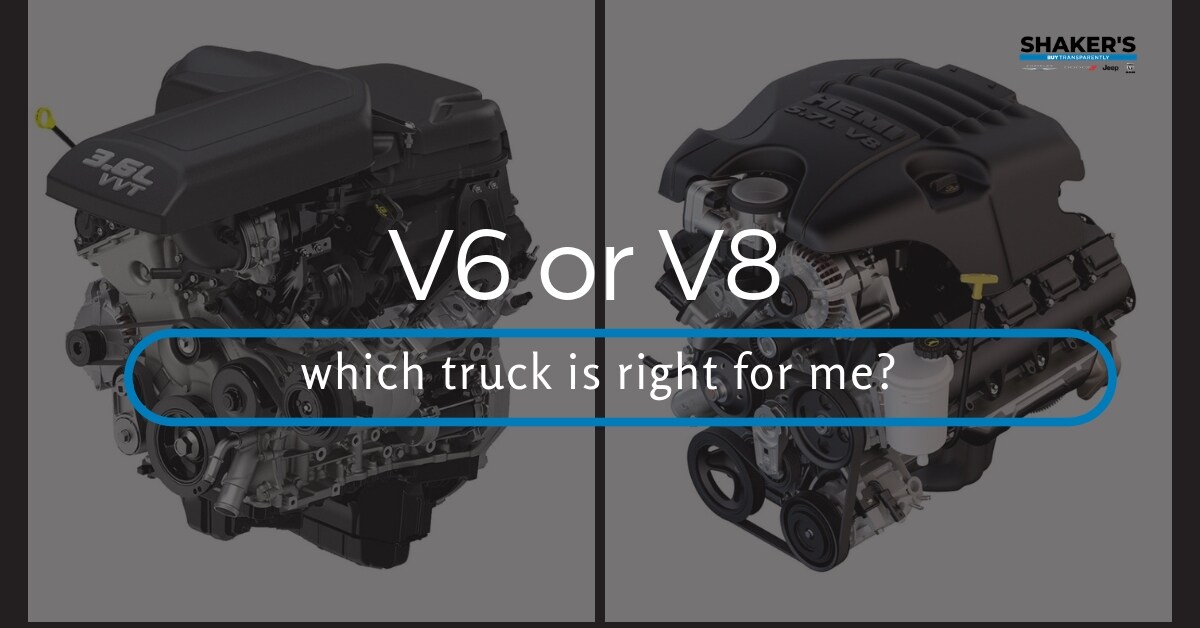 When buying a truck, the question of a V6 vs a V8 is common. Despite a number of factors of which engine block size is better, it's more than just the number of cylinders to consider when buying a truck. Choosing between a V6 and a V8 is not as cut and dry as it used to be.
With EcoDiesel, Hemi and Cummins all part of the equation, you need to look at more than just the number of cylinders.
What's the difference between a V6 and a V8?
A V-6 engine contains 6 cylinders for fuel intake,
while a V-8, you guessed it, contains 8. A smaller engine is generally a more economical choice (better gas mileage), while a V-8 will give you more power and performance. Keep in mind, many advances to the technology of the vehicle performance has led to improvements in the power and efficiency of performance to keep the vehicle running economically. More power, better fuel economy.
Turbocharged or Diesel?
Primarily, we'd choose a V8 if you often tow and haul and if the truck you're considering doesn't offer a turbocharged or diesel engine option.
But while we concede that a V8 is the better choice for some pickup-truck shoppers, we strongly suggest that you don't count out a V6 just because it doesn't have as many cylinders as a V8.
What Truck is configured for MAX payload and MAX towing capacity?
You want to get a 5.7-Liter V8 HEMI® MDS VVT 4×4, quad cab, with the 3.92 axle ratio, 140.5 wheelbase Big Horn/ Lonestar OR
5.7-Liter V8 HEMI® MDS VVT 4×4 quad cab, 140.5 wheelbase, 3.92 axle ratio Tradesman.
Way more about towing with the Ram 1500:
The Ultimate Guide to Towing Capacity with the Ram 1500
Will you be using the truck to tow anything?
How important is fuel economy to you? Horsepower?
RAM trucks offer many engine performance options.
It's really about finding the truck that fits your needs.
Want to know more?