What are the Biggest Differences Between the 2019 Ram 1500 Big Horn and the Laramie?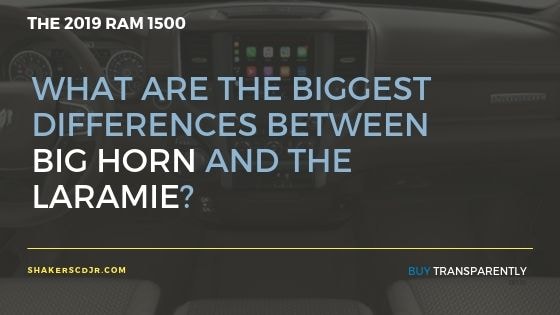 The Ram 1500 lineup has a lot to offer with 7 model trims including the Tradesman, Express, Big Horn, Sport, Laramie, 2 different drive trains, and options for your cab size and bed length. A step up from the basic work horse work truck, the Tradesman, is the Big Horn, and the next model trim up from the Big Horn is the Laramie. Leaving these two trims in the mid range, they are very popular choices. But, with only a couple thousand in starting MSRP difference, what are the differences between these two truck trim levels?
Let's assume both trucks are 4x4, quad cab, with a 6'4 box size.
The Major Differences between the Big Horn and the Laramie
As stated above, the first difference is the MSRP. The 4x4 Quad Cab 6'4 box 2019 Ram 1500 Big Horn has a starting MSRP of $39,990 and the  4x4 Quad Cab 6'4 box 2019 Ram 1500 Laramie starts at $43,790.

Interior and Exterior Color Options. The chart below shows the options for both models, but the more gleaming differences are in the two tone options that come with the Laramie over the Big Horn.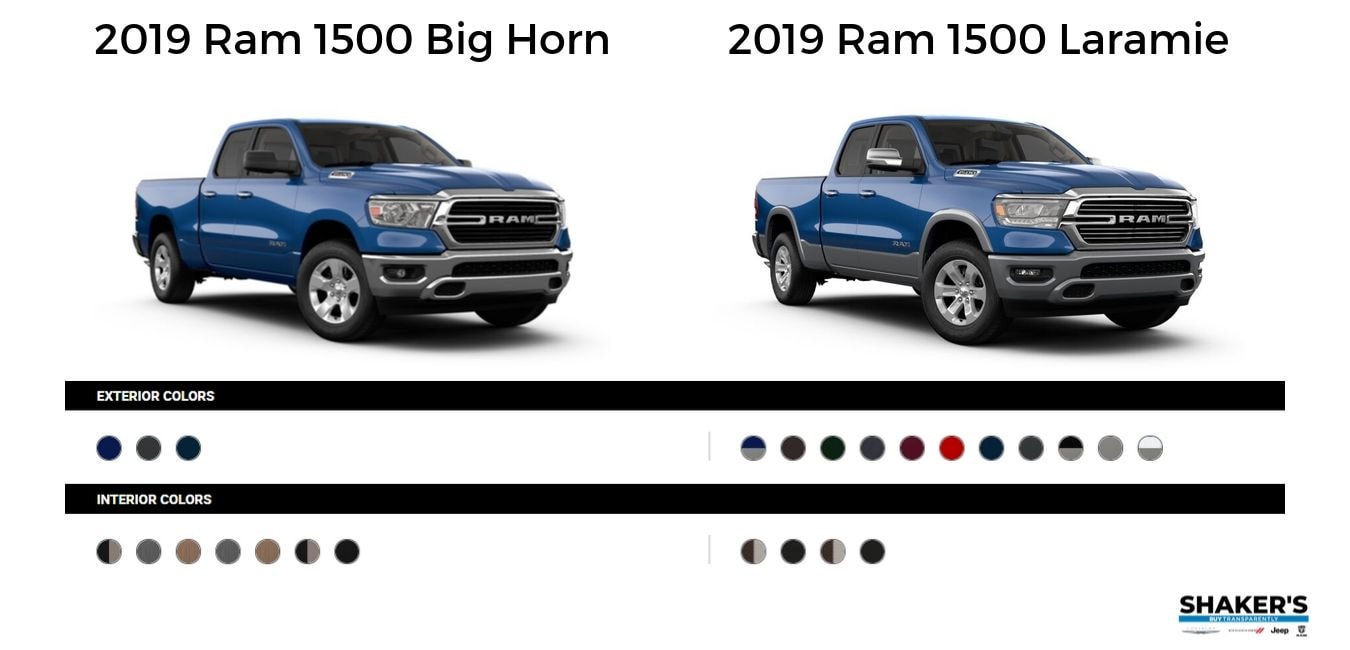 Uconnect Display Size. This is a pretty significant difference. The Big Horn comes equipped standard with Uconnect® 3 with 5-Inch Display, where the Laramie Uconnect® 4 with 8.4-Inch Display
Standard and Optional Wheels. While there are 14 wheel options and sizes ranging from 18 inches to 20 in size, the standard size wheel for the Big Horn is the 18.0 Inch x 8.0 inch wheels where the Laramie comes standard 18.0-Inch x 8.0-Inch Aluminum Base Painted Wheels. The largest, an option for both the Big Horn and the Laramie, is the 20 Inch x 9 Inch Cast Aluminum Black Wheels.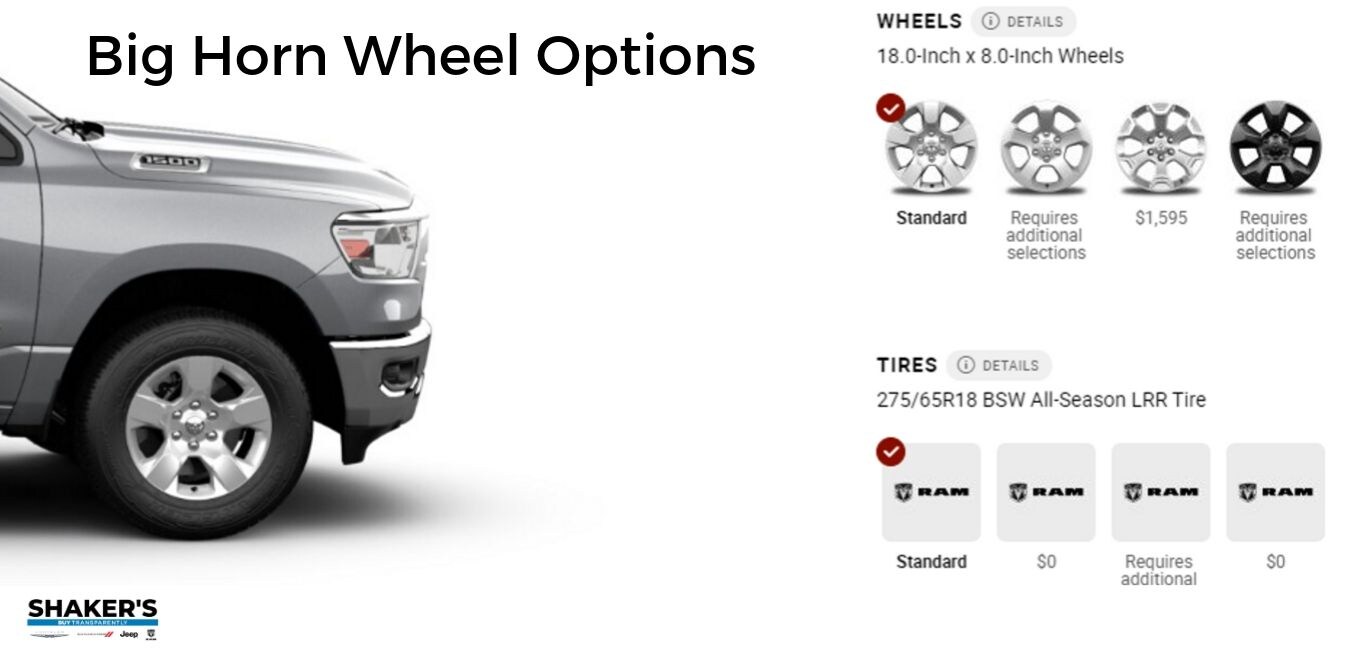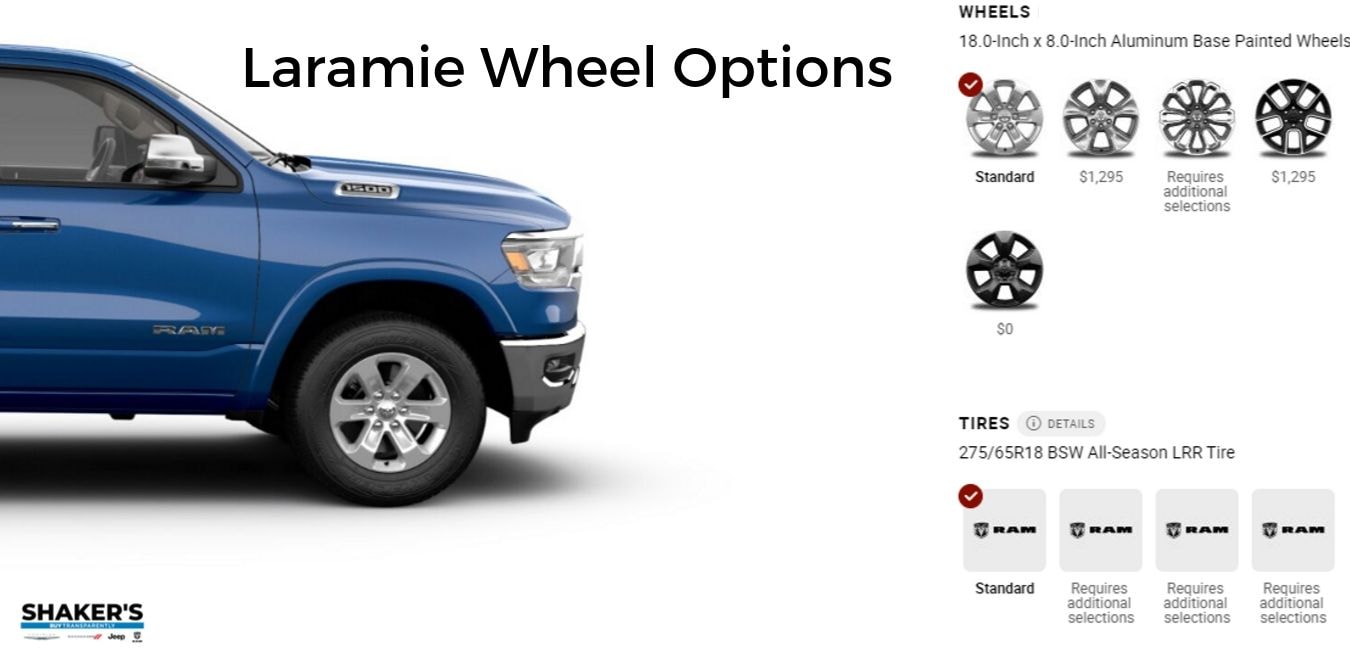 To conclude, if you are wondering if there are any performance differences between the 2019 1500 Big Horn versus the 2019 1500 Laramie, there are not, there are some preferential styling differences between these two models.